Suit Up, Gear Up and Show Off Your
Super Heart Hero Powers!
We'd like to thank each and every superhero who came to our 4th Annual Family Night Out Event!  It was a fun-filled night at the Omaha Children's Museum!
We wouldn't have been able to host this amazing event without the support from our sponsors.  Please thank Fusion Medical Staffing and the Kiwanis Club of Greater Omaha for making this event happen!
The incredible photography was brought to you by C41 Photography.  Their unending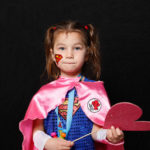 support of Heart Heroes is nothing short of heroic and we are deeply grateful for them.